The theme for the fall release is security
Sweet Forms now offers expanded storage options, driven by customer demand. The primary focus of this update is the seamless integration of external third-party document storage providers, like SynkZone and other leading file storage companies. This empowers you to choose your preferred data storage location, giving you full control over your information, if Sweet isn't your preferred place.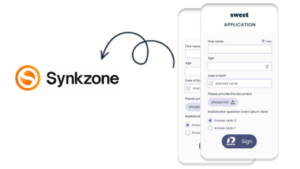 Sweet Forms answer set can now be directly stored in for example Synkzone
A nice and neat new feature to help you move from test to production, is the new import function where you can choose to import a new stand-alone copy or a new version.
In addition, we've dedicated resources to enhancing the authentication and security aspects of Sweet Forms. Your data's safety remains our top priority, and we've implemented crucial enhancements to ensure its protection.
The latest news has a focus on quality, we keep on working on extending the customization capabilities and at the same time keep automated tests and performance as top focus areas.  As part of the product quality maintenance, security has a high rank and we are proud to include even better support to remain secure and keep your data safe and integrity high.
In this release, you can experience improvements in speed and robustness when it comes to the Sweet Action for the Sweet CRM! We've been speeding up the creation of CRM objects, ensuring much better performance.
But that's not all. In line with our ongoing commitment to backend excellence, this release introduces a significant framework upgrade to .NET and various technical improvements, setting the stage for an even more powerful platform.
Download the full release notes and contact us to get the latest news! Make sure you get the news directly into you inbox next time by signing up for our monthly newsletter.