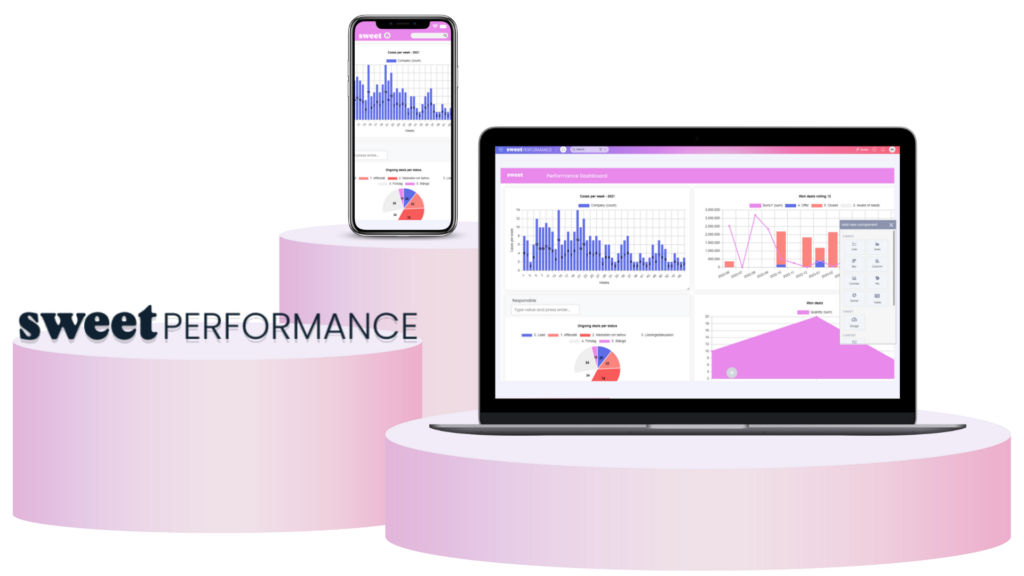 Creating tailor-made dashboards
Say goodbye to outdated, one-size-fits-all dashboards that fail to align with your unique needs. Sweet Performance empowers you to take control and construct personalized charts and dashboards that precisely cater to your requirements and preferences. No coding or technical know-how necessary – it's a DIY experience!
User friendly
It's easy to use and build your dashboards without being an BI-expert
Custom made
Build custom charts and dashboards to meet your requirements and preferences
Share the insights
Share your dashboard with all relevant stakeholders, or show it in Sweet CRM
Unifying data
Use various integrations or sources and bring all your data together in one unified place
Integrate and visualize data from your CRM, Digital Forms, and more

Our dashboard tool empowers you to explore, analyze, and interpret your data, unlocking valuable insights that can drive your organization forward. We understand that data resides in different systems within your organization, and that's why our dashboard seamlessly integrates with Sweet CRM, Digital Forms, Automation and other data sources.