Form Flow: A smoother path for handling various forms. Today, we're focusing on the banking and finance sector.
Now you can easily get an overview of your forms and their status – without separate links to each individual form!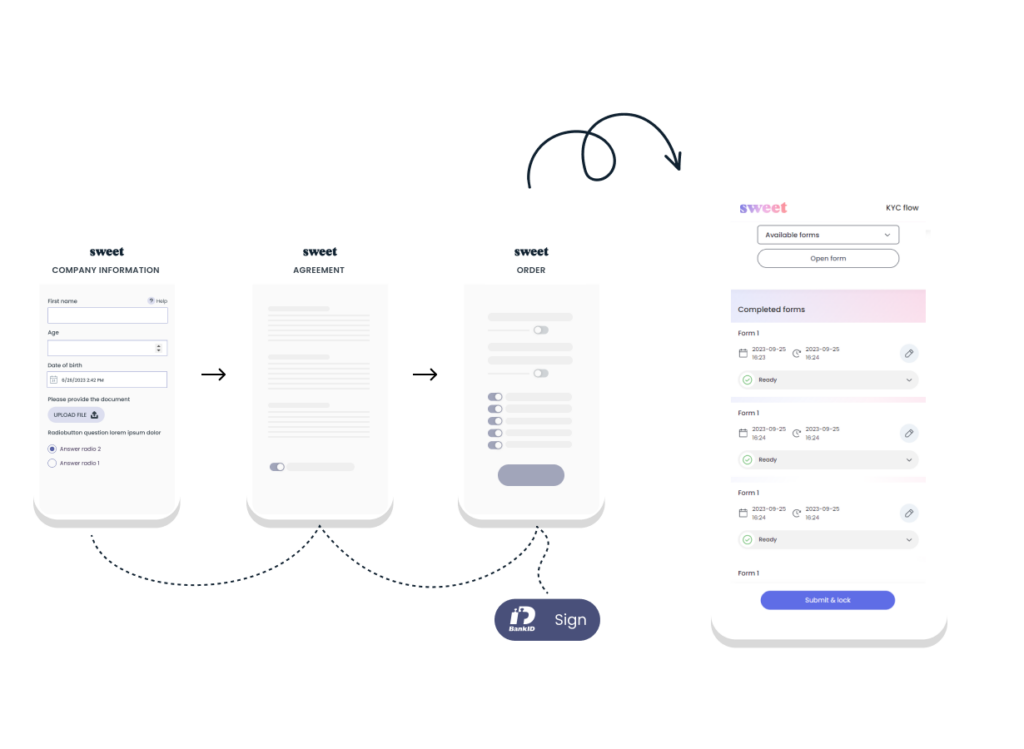 A solution: For the challenges of the future.
In the world of banking, precision and efficiency are of utmost importance. Advisors face the daily challenge of gathering crucial information and signatures from their clients for various purposes, such as loan applications, investment planning, or account openings. To make this process simpler and more seamless, Sweet Forms has developed Form Flow, a feature that will revolutionize how advisors interact with their clients. 
Understanding the problem: Multiple forms, one customer.
Traditionally, advisors have had to send separate links for each form that their clients need to fill out and sign. This can be time-consuming, complicated, and sometimes confusing for the customer. The customer must manage multiple links and documents, which can lead to unnecessary delays and frustration.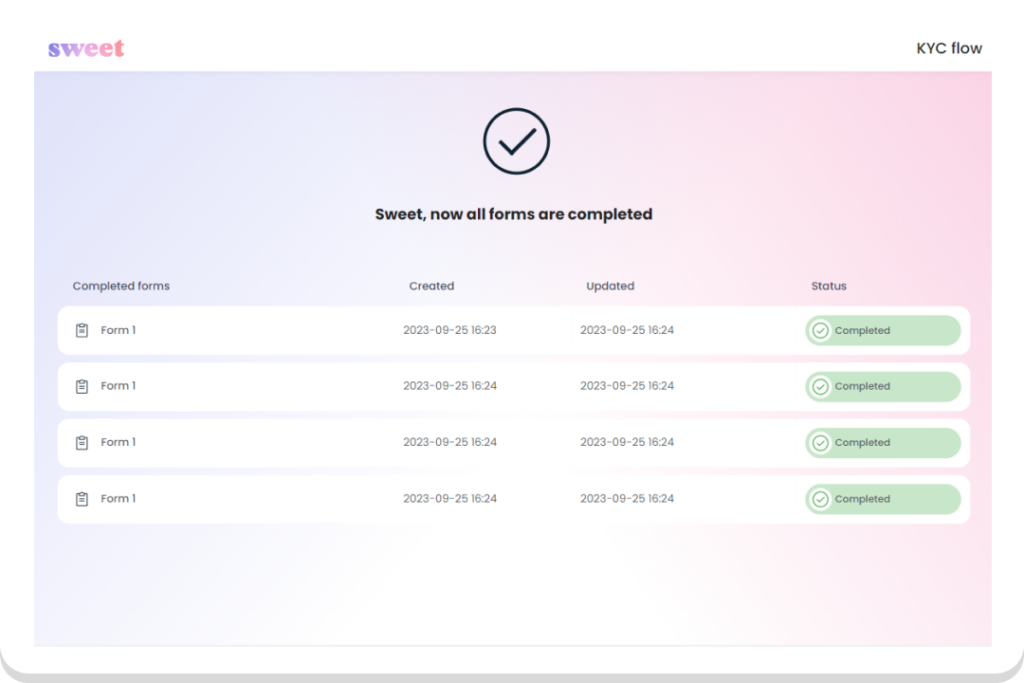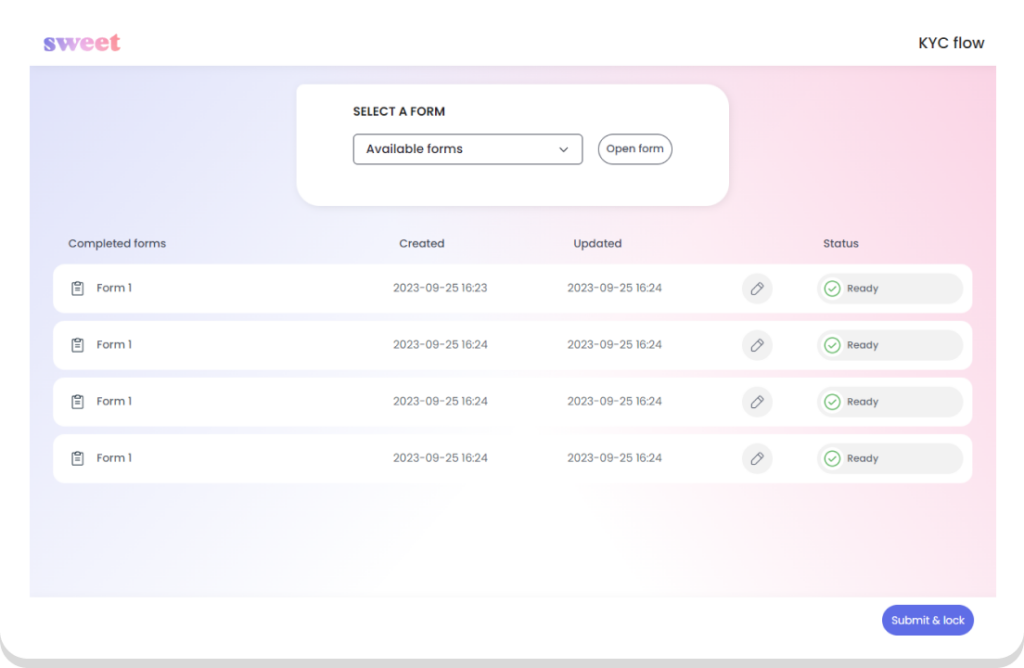 The solution: Form Flow
With Form Flow, advisors can now easily combine various forms into a single cohesive flow. Instead of sending multiple links to their customers, advisors can now provide a single link that grants access to all necessary forms—with a clear overview of the forms and their status. 
Benefits for bank advisors and customers:
Time-saving: Advisors can quickly and easily set up flows and send a single link to customers. This saves time and streamlines the workflow.

 

Convenience: Customers have all information gathered in one place and don't need to worry about navigating between multiple links

 

Increased customer satisfaction: Simpler and more intuitive processes result in happier customers, and satisfied customers are more likely to return.

 

Better overview: Customers can easily track their progress in the process and ensure that everything is complete.

Security: Form flows guarantee the utmost confidentiality and integrity for customer data, ensuring both customers and advisors safe handling of information.
Form Flows are not only an effective solution to facilitate interactions between advisors and customers but also a step towards a more modern and future-proof banking service. By using the latest technology, advisors can increase their productivity and create a smoother and more satisfying customer experience. This is just one example of how you can implement Form Flow in your business – the possibilities are endless! 
At Sweet, we are proud to offer this innovative solution to the banking sector and other industries where customer interaction is essential. We look forward to continuing to develop our products to meet your needs and make your workflow even more efficient and hassle-free. Form Flows are the future of seamless customer interaction—try it today and experience the difference! 
What is Sweet Forms?
User-friendly digital forms: Sweet Forms focuses on creating digital forms that are easy for users to interact with.
Replaces paperwork: The system allows users to transition from traditional paperwork to digital forms.
Quick and simple: Sweet Forms makes it fast and easy to create, customize, and distribute forms.
Improved customer experience: By reducing response times and simplifying the process, Sweet Forms aims to provide a better overall experience for both those who create the forms and those who respond to them.
Advanced features: Sweet Forms includes features like digital signing, the ability to pre-fill information, and validate the content of the form. These features offer more automation, accuracy, and security in the data collection process.
Form Flow: With Form Flow, one can now seamlessly combine multiple forms into a unified and coherent flow.
High Security: We are ISO-27001 certified, ensuring the highest standards of data protection and security for our users.