Hufvudstaden
Hufvudstaden increases customer satisfaction with digital forms & case management
Challenge
Hufvudstaden's previous case management system lacked mobility support and couldn't be used by technical managers in the field. Instead, critical parts of the process, such as inspections and reports, were managed using paper forms. This resulted in high uncertainty and extensive administration to handle and coordinate cases. The time from receiving a case to its resolution needed to be shortened to meet Hufvudstaden's high customer service standards. To further enhance the quality of their work, they decided to review the entire process of case management, form handling, and mobility.
Solution
Hufvudstaden, a leading property manager, has taken a significant step forward in optimizing operations and delivering better service to its customers. With the help of Sweet Systems' solutions, Hufvudstaden collects data from its connected properties to analyze and improve indoor climate, reduce energy consumption, and maintenance costs. 
As Hufvudstaden expanded and the need for digitization grew, they outgrew their existing process. They chose Sweet Systems to meet Hufvudstaden's requirements for mobility, automation, and precision in order to provide better customer service.
Thanks to a new support system, Hufvudstaden was able to bridge the previous communication gap between external and internal parties involved in the case handling. The significant improvement is that a technician can not only see all the cases related to him in his mobile device, but he can also act upon and consult them – all via Sweet.
Digital Forms: By replacing Hufvudstaden's paper forms (inspections & reports) with digital forms, they reduced administration, saved time, and eliminated the risk of forms being lost. 
Automation Engine: Sweet Automation enables proactive and data-driven management by handling signals from connected devices, such as elevators or leaking water pipes, which are then "processed" through predefined business rules. By automating the case process, Hufvudstaden can efficiently assign the right employee to solve problems and improve customer satisfaction. 
Customer Portal: To enhance the customer experience, Hufvudstaden uses Sweet's customer portal, which allows easy registration of cases and provides customers with a complete overview from start to finish. Through the portal, customers can also communicate with handlers for quick assistance and support.
Mobility: With the help of Sweet, all technical managers in the field receive notifications on their phones about new incoming cases. This enables them to work more precisely with their SLAs and deliver high-quality service to their customers.
Case management – Hufvudstaden's previous system was perceived as both limited and difficult to use, therefore, the company had high demands. The new system should be more transparent, more user-friendly and offer faster performance. Hufvudstaden wanted a system which would help their employees to streamline their working day. Another goal was to improve the case handling time, the time between creating a new case by the customer and solving the case by Hufvudstaden had to be shortened. Today with Sweet Systems solution Hufvudstaden gets a clear overview of new incoming cases with responsible users and all other persons connected to the case.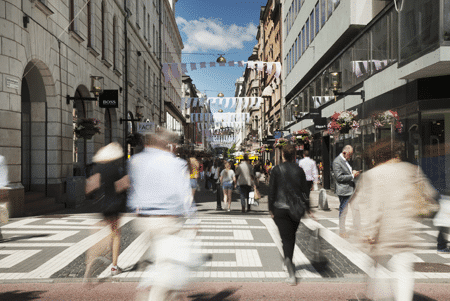 Hufvudstaden
Hufvudstaden provides office and retailing premises in Stockholm and Gothenburg's most attractive locations. The company was founded in 1915 and is today one of the largest real estate companies and one of the strongest brands in the property sector in Sweden.
Hufvudstaden receives over 1300 cases per month from tenants all around Stockholm and Gothenburg. These cases can range from urgent issues like a broken toilet to planned snow removal from rooftops. Every day, Hufvudstaden's technical managers travel throughout the regions to handle both scheduled and urgent tasks. The managers are under time pressure, with a Service Level Agreement (SLA) requiring them to be on-site within 2 hours and to resolve the issue within 24 hours. Therefore, a smooth, simple, and efficient system is required to make this possible.